choose a QBBY that meets your needs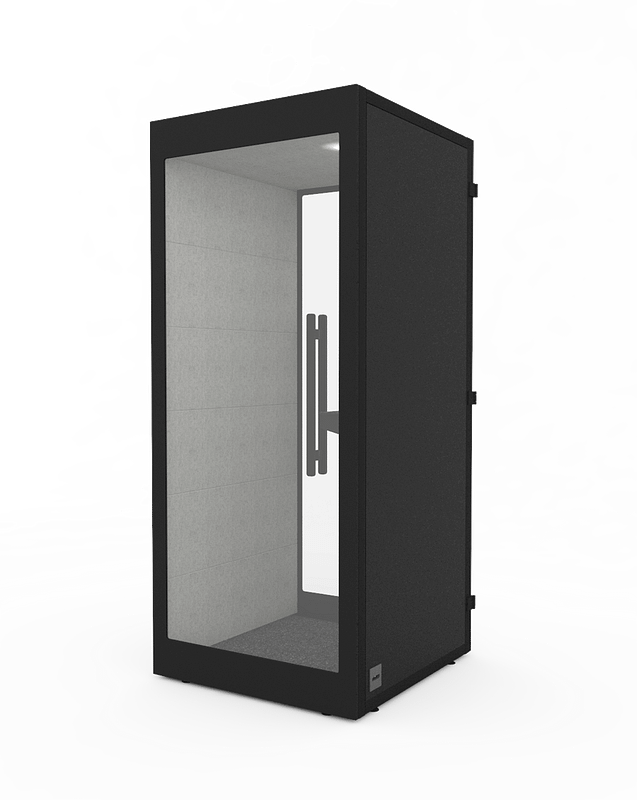 QBBY S+
Simple, smart and effective. Your personal comfort zone when you need to make an important call or focus in peace.
View the product
QBBY M+
One-on-one meeting booth. Ideal for intense, private discussions and collaboration.
View the product
QBBY L+
Great small conference room. Perfect for brainstorming, video conferences and team meetings.
View the product
Download Catalog
QBBY acoustic booths for conversation, work and meetings.

Design
All QBBY pods are built around a steel frame ensuring their stability and toughness.
The door is made of durable CDF panel with tempered glass and a magnetic seal that guarantee airtightness.
The floor has a levelling system and the ceiling hides the electrical and ventilation systems.
Modular construction makes the QBBY phone booths easy to install, expand and rearrange.
Acoustic isolation
This is by far the most important feature of the QBBY pod. Acoustic panels made from recycled felt insulate the inside and provide privacy.
Our lab is working constantly on improving the performance and efficiency of the QBBY. For us, providing the sound comfort is always a work in progress.
Asymmetric sound isolation
For your comfort and safety, we have developed the asymmetric sound isolation technology.
It makes the conversations held inside the QBBY phone booth inaudible outside, while allowing the occupant of the pod to hear safety alarms and other important sounds.
Lack of available meeting rooms is a common problem in the office environment.
Setting up additional private space often requires extensive construction works.
That's where QBBY pods come in! Just pick a spot and make an order.
Use our Configuration Tool to pick colours and materials for the interior and the exterior of your booth.
And if the interior design of your office changes? No worries!
The panels and be easily replaced and the pod can be moved to match your new interiors.
You're the designer
QBBY pods are customisable, so they can stand out or blend in.
Choose the frame and door colors (white/black)
---
Choose felt color (dark/light gray)
---
Choose external wall color (6 colors)(6 kolorów)
More than standard
Smart air management system with presence sensor turns ventilation on when you enter the booth and turns it off 5 minutes after leaving.
The light turns on automatically and stays on to let others know the pod is in use.
The ventilation maintains fresh air inside the unoccupied by switching on every 30 minutes.
Safety features of the QBBY pod
Push-open door for a quick escape
8 mm-thick laminated glass
Efficient ventilation system
Steel frame for durability
Possibility of fixing the pod to the floor
Flame retardant insulation
Safe electrical installation (230 V/12 V)
Reliability
In business, trust is the most important asset.
We have certificates to prove that you can count on us and our products.
In fact, we are so confident in them, that we offer you a 5 year warranty!
Have some questions?
TOMASZ BANAŚ
SALES TEAM LEADER
phone +48 665 066 666
e-mail t.banas@perfecta.com.pl
GRZEGORZ STEFAŃSKI
SALES MANAGER
phone +48 665 299 999
e-mail g.stefanski@perfecta.com.pl
Perfecta Sp. z o.o. Sp. k.
Łany, ul. Wojnowska 8
55-002 Kamieniec Wrocławski
+48 71 344 99 98
Contact us
Get access to the Partner Zone!
Log in to the Partner Zone and get more information about the technical possibilities and configuration of our acoustic booths.